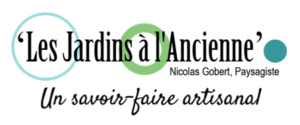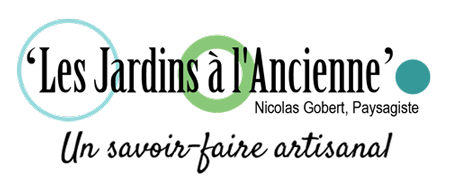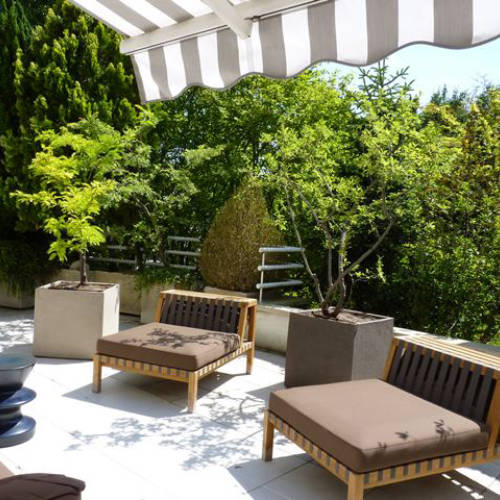 Ideas that have germinated...
For this slab terrace, it was made A selection of plants to reuse in new Pottery and vases of the ATELIER VIERKANT (Belgium) according to their size and port as well as their vegetative mode. These plants have been completely recarved or reformed (antlers and Root systems) and replanted in a suitable culture medium (planting soil, heath) with an appropriate intake of organic fertilizers and organic amendments of the Organic 3 G range.
The concrete slabs of the terrace laid on studs, as well as the concrete bins in the periphery and walls have been cleaned with the help of specific products for the cleaning of concrete surface and have received in finish a waterproof treatment double layer, avoiding Thus the deposit of heavily soiled slabs and the supply of new slabs.
the original automatic watering could be kept and adapted to the new pots.
The arrangement of the pottery on this terrace creates a whole harmony as well as views on the outside while keeping the intimacy of the place. The range of contemporary pottery from the VIERKANT workshop that has been used is available at our shop on samples and catalogue textures and color.
Our plans arehandmade, on a drawing board, to keep the mastery of our achievements (the head drives the hand), not to limit our creativity to the possibilities of a software or a mouse... very often Inferior to our gray cells.

Terraces and balconies
the old-fashioned gardens share with you some basic principles, in order to bring the plant in a good culture comfort on your terraces and balconies, but also to marry well the materials, the textures and the shapes, of your different furniture and decorating elements.
the development and production of aboveground plantations is always a tricky point. Theorientation of the terrace, of the balcony in relation to the cardinal points, but also of the climate are determining factors. In the same way, the changing weather, contradictory and sometimes excessive in recent years, put the plants to a strain.
That is why, the old-fashioned gardens insist on the type and material of the container to be used, the quality of the substrate, the good irrigation and the good drainage, which take all their importance for the stability of the products in time and The good fate of plants.
In this spirit, the old-fashioned gardens use the plant as an extension of this analysis, products used for good graphic and aesthetic restitution. This allows in the event of an accident on the plant to facilitate its replacement without damaging the general ambience of the terrace and the balcony.